Trees help frame your home and provide curb appeal. They add value when properly cared for, and can reduce cooling costs as well.
"Landscaping can add approximately 10 to 20% more value to a property – especially landscaping that incorporates mature trees." – www.realty101.com
At Top Tree Service LLC, we have made it our mission to practice quality tree care with an emphasis on proper pruning to ISA standards. Trees are valuable natural resources, to both the community and to our customers. We do everything that we can to help maintain those resources in a cost effective way that benefits our customers, their property, and the trees.

Never top your trees. Topping trees actually increases its growth rate as the tree tries to replace its missing leaf area. That stress decreases the trees ability to fight disease and pests. Sever damage from cropping can kill trees.
DIY? Saws + Heights = Danger!
Be careful! Properly caring for trees requires knowledge, training, and equipment. Don't put yourself, your trees or your property at risk. Call 509.943.7032 and let the experts at Top Tree Service, LLC handle the tough jobs!
TCIA develops safety and education programs, standards of tree care practice, and management information for tree and landscape firms around the world.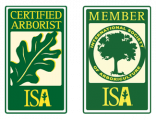 Through research, technology, and education, the International Society of Arboriculture (ISA) promotes the professional practice of arboriculture and fosters a greater worldwide awareness of the benefits of trees.

The Pacific Northwest Chapter of the International Society of Arboriculture (PNW-ISA) is a member organization for arborists and urban foresters.