As a certified arborist, we specialize in tree trimming, tree removal, tree health, as well as the best care for brush & shrubbery. We offer services around homes and businesses to help keep you safe and to keep your landscaping looking beautiful. We also offer tree pruning, tree thinning, shrub trimming, preventative care, and more. We've worked with plants and trees for over 18 years and are happy to help restore, remove, or prune the trees in your area. We have made it our mission to practice quality tree care with an emphasis on proper pruning to (International Society of Arborculture) ISA and ANSI A300 standards. Trees are valuable natural resources, to both the community and to our customers. We do everything that we can to help maintain those resources in a cost effective way that benefits our customers, their property, and the trees.
Shrubbery Trimming
Our ISA Certified Arborists can improve the appearance and health of your shrubs. We cut away thick, overgrown branches as well as damaged and diseased limbs.
Brush Chipping
When trees or shrubs are removed or cut down, the work is not over. We can remove ugly waste quickly and effectively.
Top Tree Service LLC serves the Tri-Cities and surrounding areas, including Richland, Kennewick, Pasco, Burbank, Benton City, Connell, Prosser, Yakima, Walla Walla, Ellensburg, and Wenatchee. Call 509.943.7032 for your FREE estimate today! When you contact Top Tree Service LLC, we will schedule an appointment for an arborist to meet with you and do a walk through of your property. This allows us to discuss and address the health and safety of your trees as well as answer any questions that you might have.

Never top your trees. Topping trees actually increases its growth rate as the tree tries to replace its missing leaf area. That stress decreases the trees ability to fight disease and pests. Sever damage from cropping can kill trees.
DIY? Saws + Heights = Danger!
Be careful! Properly caring for trees requires knowledge, training, and equipment. Don't put yourself, your trees or your property at risk. Call 509.943.7032 and let the experts at Top Tree Service, LLC handle the tough jobs!
Want to help your trees stay healthier and pest-free before they need removal? We are now offering tree health & care services to provide nutrients, water, and to prevent pest and diseases.
TCIA develops safety and education programs, standards of tree care practice, and management information for tree and landscape firms around the world.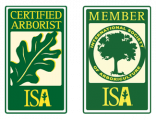 Through research, technology, and education, the International Society of Arboriculture (ISA) promotes the professional practice of arboriculture and fosters a greater worldwide awareness of the benefits of trees.

The Pacific Northwest Chapter of the International Society of Arboriculture (PNW-ISA) is a member organization for arborists and urban foresters.