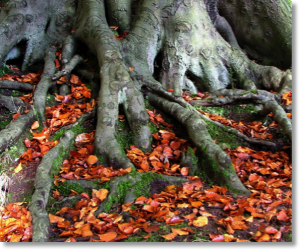 Issue: Winter Drought
Solution: Thick layer of organic mulch around base of tree
Winter drought can be something you may not think about. Most people (myself included) have never thought that a tree still needs water even during the winter. One of the best ways to help a tree conserve and preserve the most water possible, is to make sure there is enough mulching material at the base of the tree.
Purchase a rake and natural mulch, such as composite wood chips, from your local lawn and garden store.
Remove any debris, sticks, limbs and weeds from the base of the tree.
Rake the area to make the ground around the tree as even as possible.
Apply the mulch in a circle around the tree. Put it about the length of the limbs on small, young trees. Measure about a 12 foot span (about 3.5 m) around large, adult trees.
Ensure the mulch measures between 2 and 4 inches deep.
Using the rake, ensure the mulch is spread evenly.
Check the appearance of the mulch ring and make any needed adjustments to ensure an even shape.
Using a hose, bucket, or other tool, water the mulched tree if the soil is particularly dry.
Check your mulched tree throughout the season for weeds and pull them as needed.
Now, if you do not feel comfortable or simply don't have the proper tools to do any tree maintenance, we are more than happy to do any of this work for you. Also, if you have multiple trees to remove or just don't have the time to do it, we are here for you. We can handle all of your tree maintenance needs and services in the Tri-Cities (Kennewick, Richland, Pasco) and even West Richland. We look forward to being your preferred tree maintenance provider.